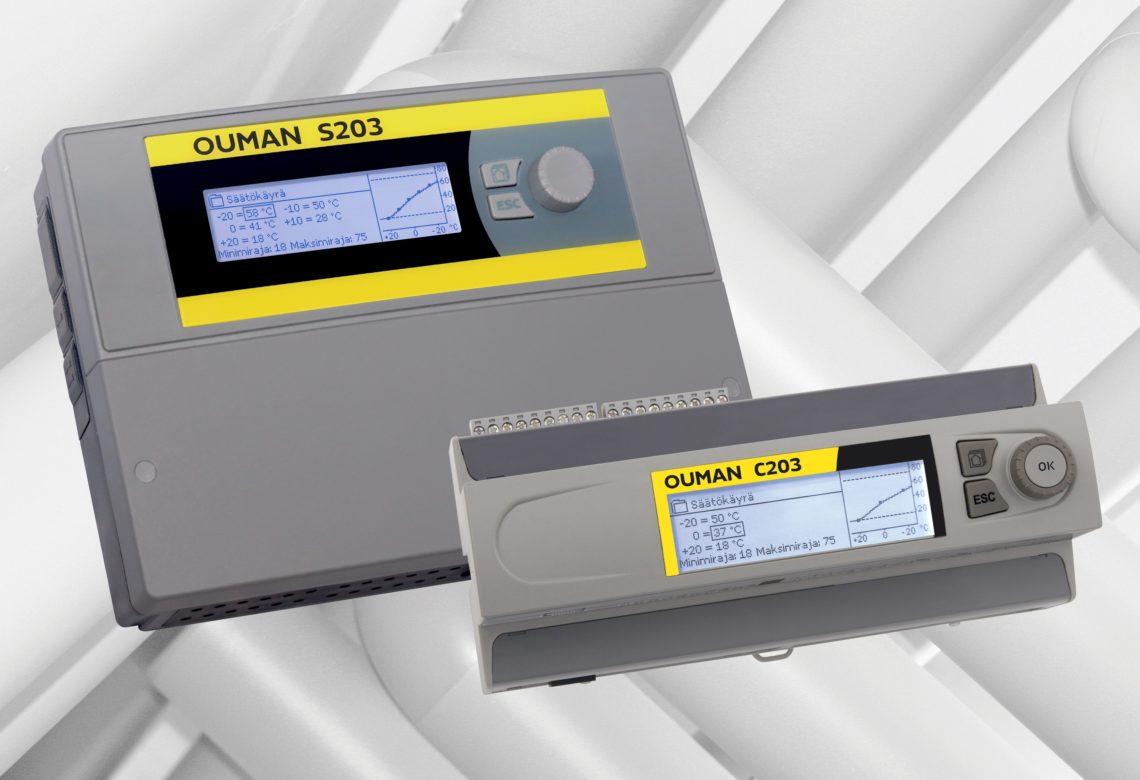 Next generation heating controllers S203 and C203
Ouman S203 and C203 are next-generation, 3-circuit heating controllers whose versatility, intelligence and openness make them superior controllers, in terms of their functionality, for all water circulating heating systems. User-friendliness is a familiar Ouman quality. The informative display panel and the GSM Control feature guarantee reliable use, regardless of time and space. Ouman S203 and C203 can be connected to the Ounet service, which makes the web-based remote use of the controller easy.
The S203 controller (wall-mounted) and the C203 (DIN-track mounted) are suitable for both detached houses and large residential and commercial properties. S203 and C203 are open to various types of remote control solutions. In addition to the controller's display, a property's heating can be monitored and controlled with a GSM phone and a PC. Alerts and alarm messages can be received with a GSM phone.
SYSTEM SUPPORT (Ouman Flexiot system)
SERVICE & TECHNICAL SUPPORT (Ouman unit controllers)
We want the district heating equipment installed by us to have the best components available.
"We grant a full five-year warranty to all our installations including accessories, and we want them to include the best possible components. That is why it has an Ouman controller."
That is what Juuso Pelkonen, a supervisor at Etelä-Suomen Lämpöhuolto, says. See the linked video for Juuso's comments on his experience of Ouman's controllers.
Advanced heating regulation technology
Ouman S203 and C203 represent a newer, more intelligent regulation technology. They contain numerous features that improve regulation and conserve energy as well as automatic functions preferred by professionals. Ouman S203 and C203 are suitable for water circulating heating systems and various heat generation methods, such as boiler facilities and ground source heat pumps.
Ouman S203 and C203 are easy to deploy. Based on the selections on the deployment menu, the regulator offers installation values suitable for most sites as is. S203 and C203 display the trends in temperature changes graphically, which makes the regulation process easier to understand. Good heating regulation is based on a correctly shaped regulation curve. The regulation curve can be set as either a 5-point or 3-point regulation curve. The controller prevents the setting of an incorrect regulation curve when using the 3-point regulation curve. This ensures the heating system's flawless operation.
See the documents of the S203 ja C203 controllers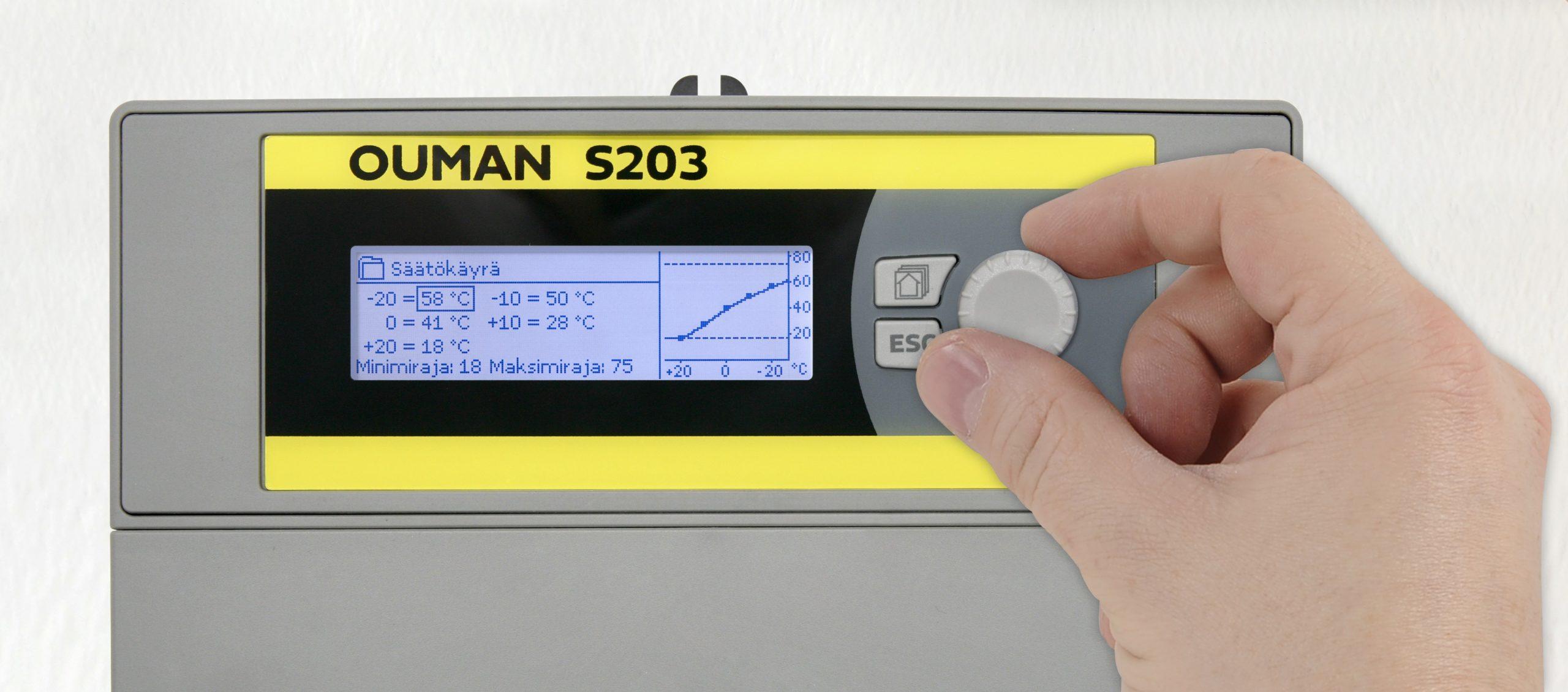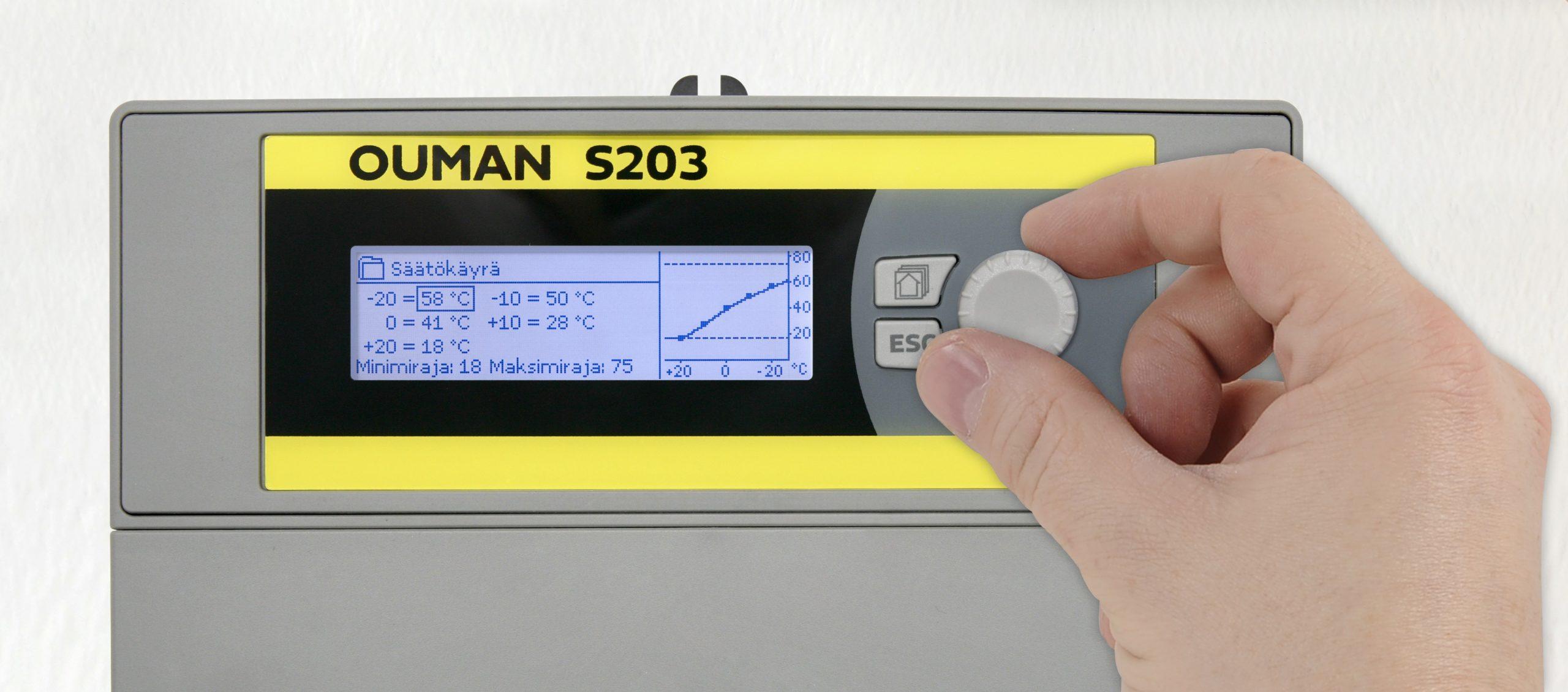 Enhance the operation of your heating system
The controller prevents high consumption peaks by limiting power consumption to a set maximum. The S203 and C203 controllers allow the control of two separate heating regulation circuits independently of each other. This translates into better energy efficiency and increases comfort and structural safety.
Updating the controller's software is easy and fast. The only thing you need to do is replace the old memory card with a new one containing the new software. The controllers have a highly sophisticated domestic water regulation algorithm, which guarantees pleasant showers. Anticipatory regulation and a quick-run function improve regulation in situations involving rapid changes in consumption.
Versatile alarm functions
The versatile alarm functions of the S203 and C203 controllers guarantee precise information on the problem in fault situations. The user does not have to guess where the alarm originates from when the error message is shown on the controller's display. In addition, alarms can be forwarded to the desired phone numbers, provided that a GSM modem has been connected to the controller. If the S203 or C203 is integrated in an Ounet web-based SCADA, the alarms can also been seen there. Ounet also allows for routing the alarms forward to selected email addresses.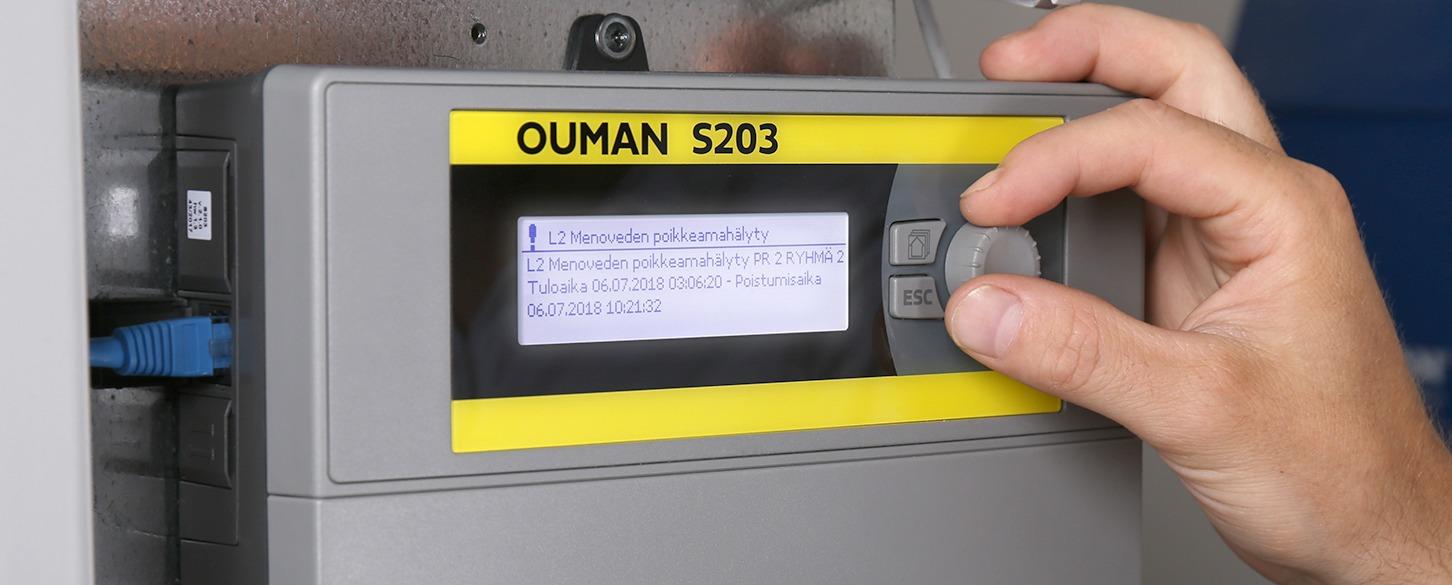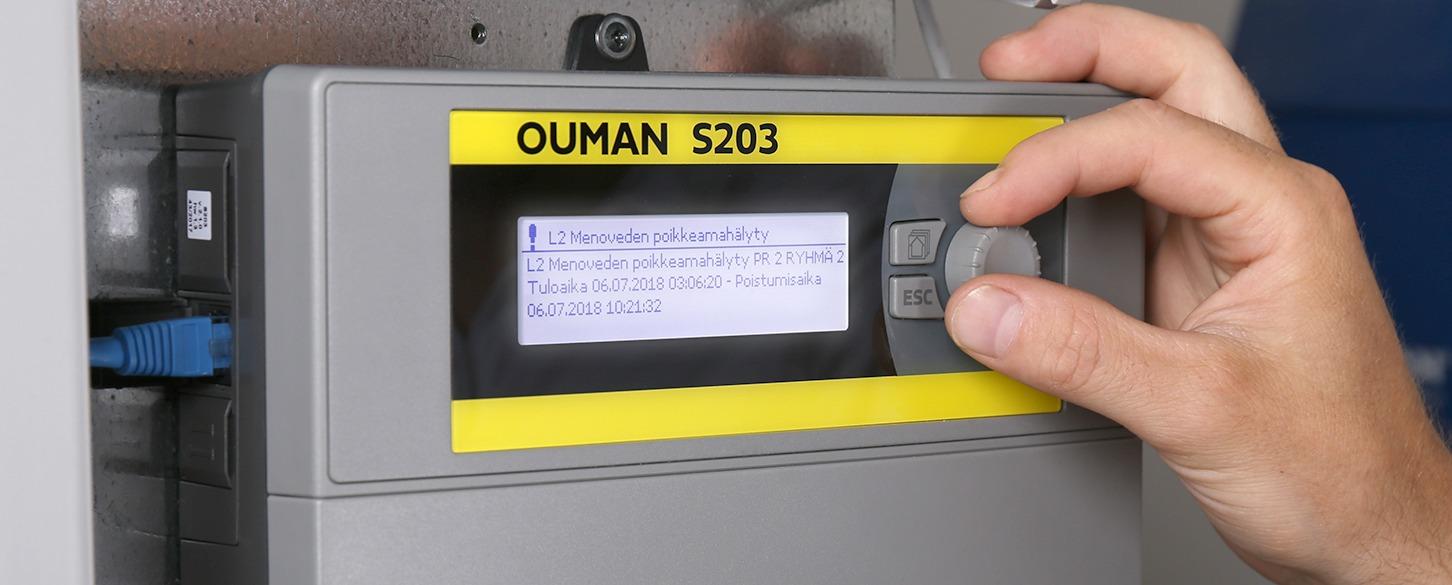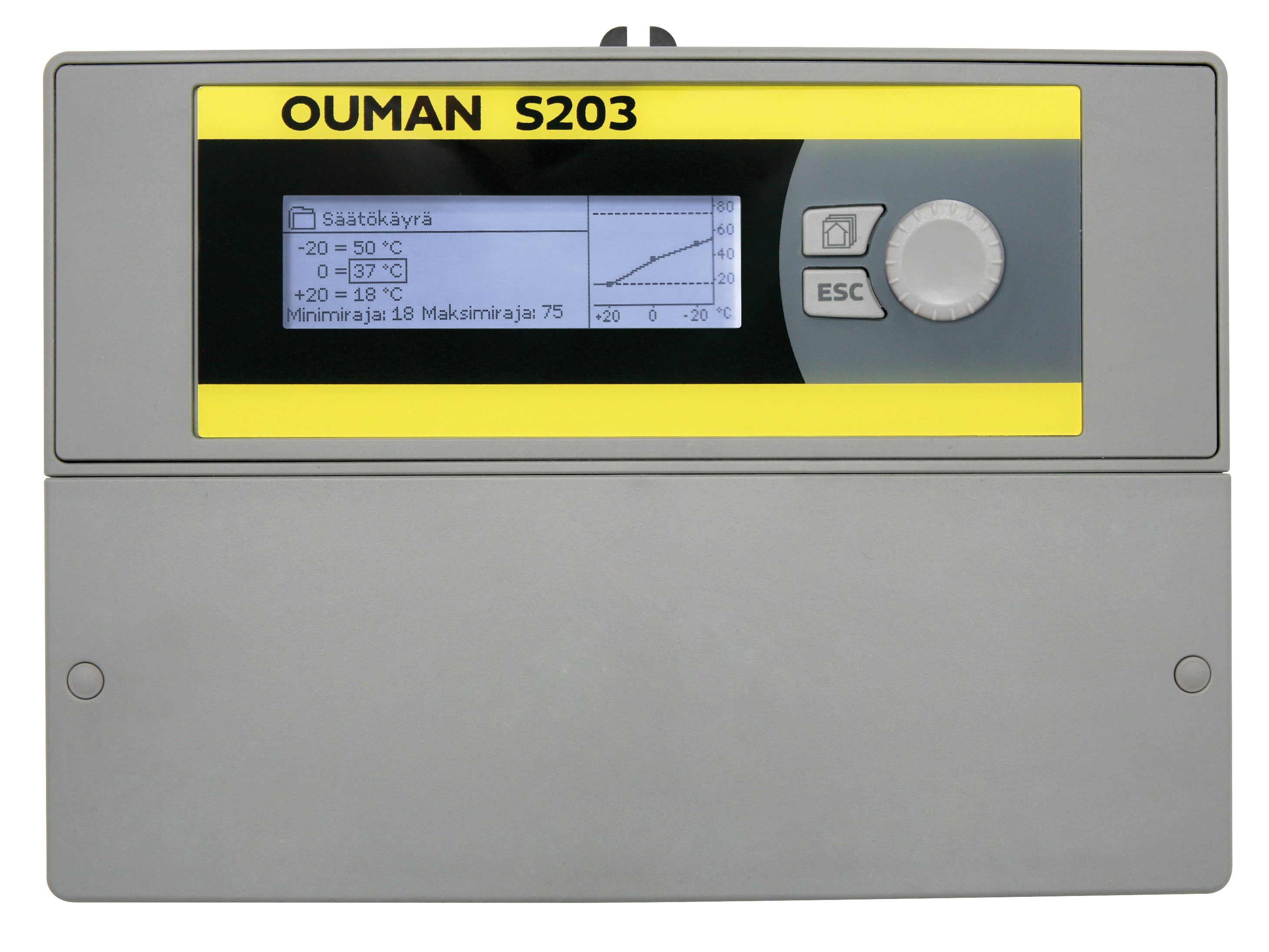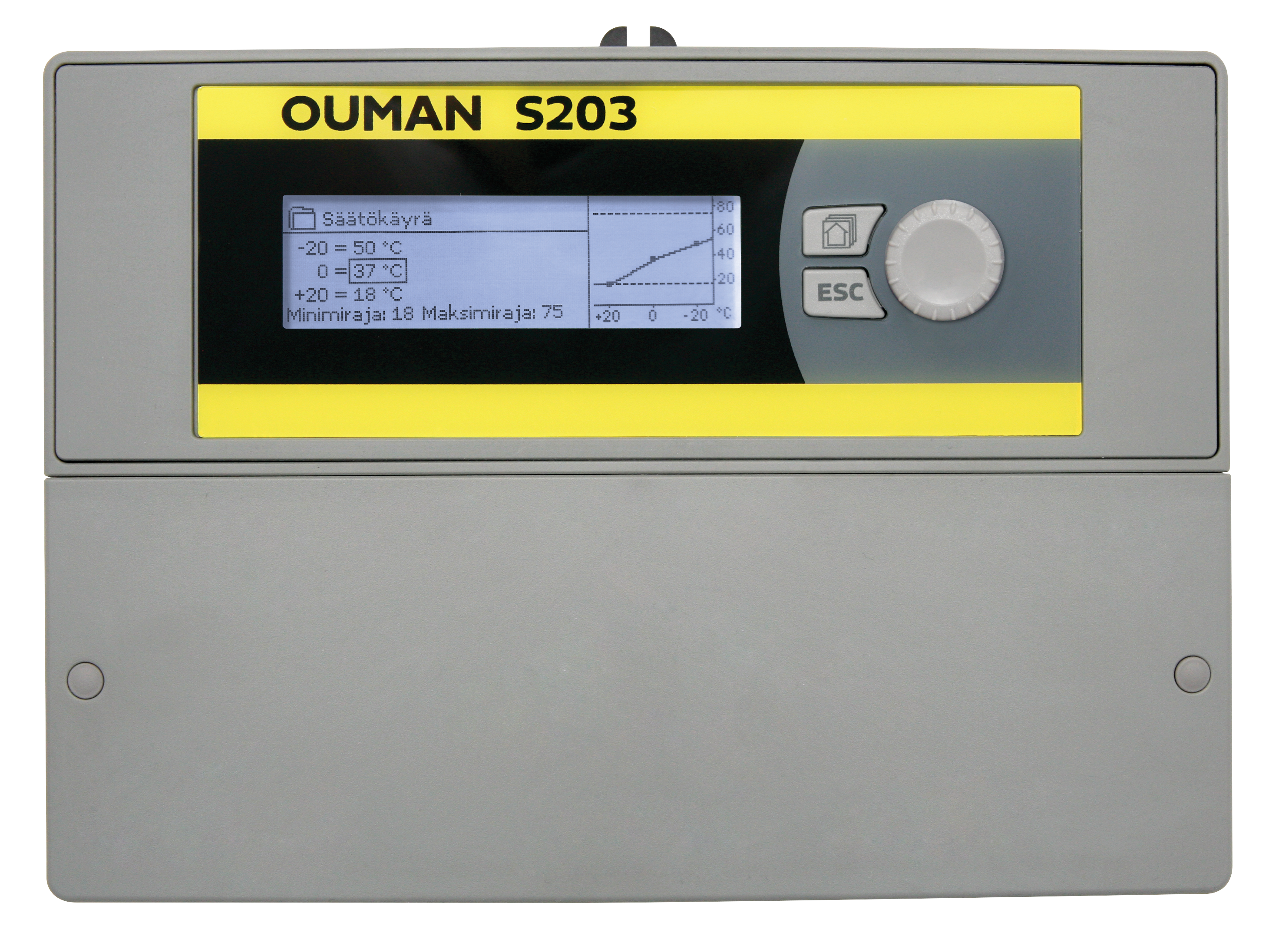 The installation-friendly S203 – ideal for renovation sites
The S203 is designed to be installed in different kinds of environments. Thanks to its compact size, an installation spot is easy to find, which makes the controller ideal for renovation sites.
The controller can also be installed directly in a district heating substation, for example. The spacious switch position makes cabling easy, thereby facilitating connection and deployment.