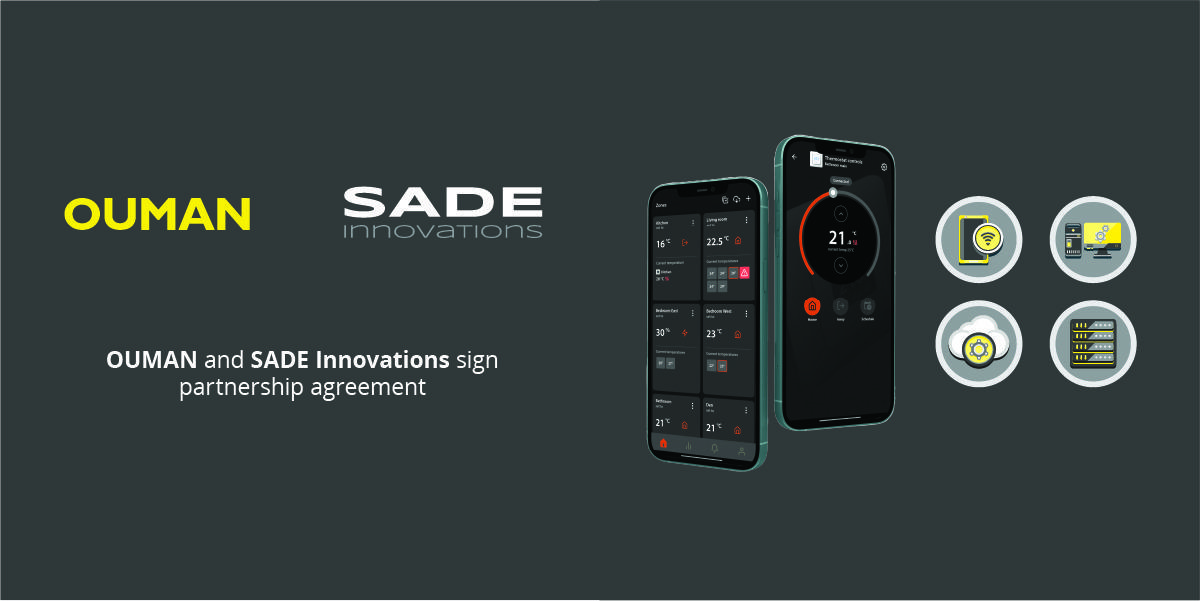 OUMAN and SADE Innovations sign partnership agreement
SADE Innovations Oy, a full-service R&D house based in Salo, Finland,  and OUMAN Oy, an expert in HVAC process control and building automation, announce to have signed a partnership agreement.
The companies have agreed to offer products and services together for building automation control system customers in cases where cooperation is considered beneficial for customers. The agreement covers both the ongoing and future projects of the respective accounts. The R&D projects of both companies are, nevertheless, always agreed separately, meaning that both companies continue to operate with their other customers and partners (and their ongoing and future projects) just like before.
The groundwork for the now-announced partnership has been done and validated in the previous projects where the two companies have already cooperated. SADE Innovations has been working on a customized IoT cloud solution, based on SADE Booster IoT Asset, for OUMAN for some time already, featuring both a web app for system admins, and a mobile app for customers. The mobile app allows for the end customer to (for example) monitor the energy consumption of a building, track temperature trends, and control thermostat settings in zones, for example to raise or lower the temperatures of the desired rooms – and all this remotely of course, via cloud. Or, for example, turn on the heating of the sauna stove already on the way home from work. The possibilities for applications are practically endless!
"The partnership that we now announced is a natural continuation of the cooperation that we have been already doing for some time", says Juha Kuosa, CEO of SADE Innovations. "Making the partnership public will also simplify discussions with new customers because both companies are now able to explain clearly who is responsible for what in each delivery, and at the same time, we can effectively deliver an easy-to-use overall solution for the customer".
"OUMAN is the biggest company in North Europe to manufacture HVAC and building automation control units whose products control when and how much energy is being used in buildings. OUMAN controllers enable efficient optimization of the energy consumption and energy costs of buildings. For our overall solution, we needed a cloud solution that is secure, cost efficient, and scalable to many end products. After a careful evaluation of various domestic and foreign options, we concluded to go for SADE Innovations and their solution, as it fulfills our requirements and is able to meet the versatile needs of our large clientele", says Matti Lipsanen, CEO of OUMAN.
About OUMAN:
The first mobile-controlled products were launched by OUMAN at the end of the 1990s and ever since then, we have developed secure and scalable IT solutions between devices and users. OUMAN products are integrated easily into all automation systems and cloud services, and offer end-users and service personnel a secure remote control solution via mobile devices or OUMAN OUNET control system. OUMAN products adjust the energy consumption of buildings, enable healthy indoor air quality and optimize the energy cost of buildings. OUMAN automation increases the property value through cost-efficient maintenance and optimized energy cost. OUMAN OEM controllers are always custom made according to product specifications from customers, and they are renowned for their reliability and cost effectiveness.
About SADE Innovations:
SADE Innovations is a fast-growing R&D company located in Salo and Turku, Finland. We are a full-service R&D house with special focus on custom IoT solutions. Our customers, projects and assignments cover the full variety of different R&D needs. We deliver turnkey solutions including software (web apps, mobile apps, embedded software), cloud services, hardware, mechanics and industrial design. We believe that happy and committed employees are our golden key to success. This means in practice that we trust each other, are always there for each other, treat everyone respectfully – generally, we enjoy the ride together. This we achieve by open and true communication, and good balance of freedom and responsibility – without forgetting to have some fun along the way! We hire only the best and share the success to all employees. We are a company owned by our employees, meaning that every time we hire a new employee, we also hire a new future partner.
More information: